! Created by Monica K. Hurdal> <! Last updated September 1998>
Links to Pages for Downloading QuickTime Movie Viewers
to View Movies from the Ph.D. Thesis
Mathematical and Computer Modelling
of the Human Brain
With Reference to Cortical Magnification and
Dipole Source Localisation in the Visual Cortex
The computer animations are in the QuickTime movie format (*.mov). As a result, a QuickTime movie viewer is required to view these computer animations. If you do not have a QuickTime movie viewer, click on one of the following links to download a viewer for your platform. Some animations are also available in the Microsoft Video format, also known as the AVI format (*.avi), which some PC's are able to display without a special viewer.
QuickTime Viewers for Unix Platforms:
QuickTime Viewers for Macintosh and Windows Platforms:
If the above viewers are not appropriate, use your favourite search engine to search for `quicktime' or `quicktime movie viewer'. Some search engines include:
Alta Vista - a popular search engine with networked sites in many locations including Australia, Northern Europe and Asia
ANZWERS - specialises in Australia and New Zealand searches
Web Crawler - another popular search engine which is a U.S. site
Click here to view computer animations related to this thesis.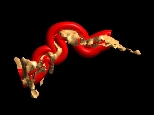 Back to Movie Introductory Page
Click here for information on how to contact the author of this thesis, or how to obtain a copy of this thesis.
---
Disclaimer: The usefulness or usability of any of the above movie viewers or search engines is not guaranteed in any way. They are only offered as suggestions to assist the reader.
---
Home Page
Copyright 1998 by Monica K. Hurdal. All rights reserved.