2019 FSU Math Fun Day and FSU Circus of Physics
---


Saturday, February 2, 2019 at 10:00-5:00pm, FSU Main Campus

Love Building, 1017 Academic Way, Tallahassee, FL 32306-4510

Richards Building and the Pat Thomas Planetarium, 77 Chieftan Way, Tallahassee, FL 32306

---
The Department of Mathematics (FSU Math Fun Day) and The Department of Physics (FSU Circus of Physics) are combining forces to hold a joint Open House for the general public, including K-12 students and teachers. Come join us for some math and physics fun! There will be double the fun with presentations, exhibits, demonstration, and workshops. Activities are available for all ages in grades K-12, but students in kindergarten and grade 1 will need extra parental help. Activities will run until 5pm. There will be a public lecture from from 1-2pm that is geared for ages 9-99!
FSU Math Fun Day will take place at the Love Building on the FSU Campus.
FSU Circus of Physics will take place at the Richards Building and the Pat Thomas Planetarium.
These buildings are within walking distance of each other. There will be also be activities located outdoors between the buildings to keep everyone engaged!
Printable Math Fun Day Brochure with a Schedule of Events: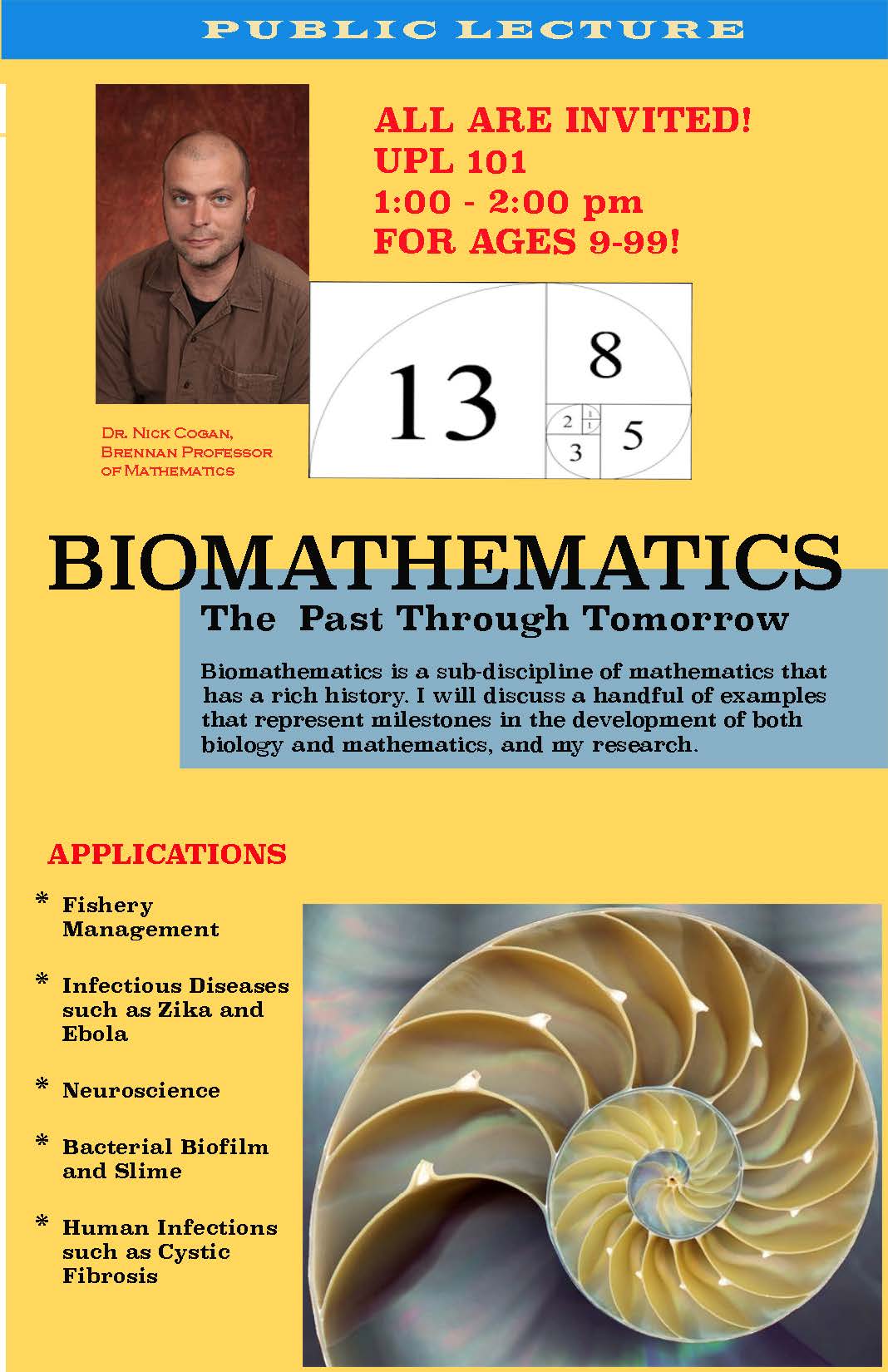 Click here for Maps and Parking Information.
Please note that there is considerable construction occurring on the FSU Campus. There is construction along Antarctic Way and Cheiftan Way and these roads are not always accessible to through traffic.

Do you want your children and families to experience mathematics in a fun and engaging way? Come to FSU Math Fun Day. Each year, faculty, staff, and student volunteers from the Department of Mathematics engage with the community, including K-12 students and teachers to demonstrate that MATH is FUN! If you have not attended before, we welcome you, and if you are returning, welcome back! The event is free and open to the general public. This is our 6th annual Math Fun Day! Follow us on Facebook for more details!

After a 7-year hiatus, the FSU Circus of Physics is back. It is designed to generate interest in science for school-age children and their families through hands-on demonstrations and experiments, planetarium shows, and other fun (and educational) activities. Anyone and everyone is invited to attend and there is no cost to join us for any and all of the activities. Please see FSU Circus of Physics for more details about specific events.


Hear more about Math Fun Day from a FSU Headlines Radio broadcast or read about us in the Tallahassee Democrat on January 29, 2019: "Happy collision: FSU hosts Math Fun Day and Circus of Physics on Saturday". -->
Come join us! Please check back often for event updates.
Dr. Monica K. Hurdal, Event Director and Professor in the Department of Mathematics
Email:
MathFunDay@math.fsu.edu
or
mhurdal@math.fsu.edu
Phone: (850) 644-2202 (Department of Mathematics Main Office) or (850)-644-7183 (direct)
Activity rooms are an open house style event, where people can come and go. Activity rooms will be open from 10:00-5:00pm, at which time they will begin to complete activities with existing guests so people can make their way to the Public Lecture.
Room 102: Fractals
Fractals are infinitely repeating patterns that are similar at every scale and occur in science and nature. Learn what fractals are, and come create your own in 2D and 3D using geometry or a computer!
Recommended for Grades 2 and up.
Room 103: Math In Nature - New this year!
Discover where math appears in nature, music, art, DNA, biology, plants, and animals. Learn about the Fibonacci sequence and color and investigate the golden mean spiral.
Recommended for all ages.
Room 104: Math Escape Room
Solve a series of mathematical puzzles using clues and strategies to solve a mystery. Multiple escape sessions will be held during Math Fun Day and participants will be given a set time limit to solve the mystery. Each session is limited to 5 kids so be sure to sign-up for a session outside Room 104!
Audience: Recommended for Grades 5 and above.
Room 104A: Exploring Polygons through Computer Programming
People young and old may come and go as they choose from the room, which has a limited capacity. Faculty and graduate students will be on hand to aid students in working through a set of programming challenges related to mathematical ideas about polygons in the Scratch programming environment. No prior programming experience is needed!
Recommended for Grades 4 and above. Younger children are welcome to see how far they can get as well!
Room 107: Mathematical Games Room
Try your hand at 3D tic-tac-toe and other games. Learn some of the mathematical strategies for playing various games and use mathematics to improve your playing style!
Recommended for all ages.
Room 200: Women in Mathematics - New Activities This Year!
This Activity Room is organized by the FSU Student Chapter of the Association of Women in Mathematics
Do you know of any famous female mathematicians? There are lots! Come learn about some of the contributions women have made to mathematics and mathematical research. There are hands-on activities to demonstrate some of the fields of mathematics where women have made discoveries.
Recommended for Grades K-12.
Room 201: Symmetries and Patterns - New Activities This Year! Explore geometries (rigid geometries and curved surfaces) through easy to make models. Find hidden symmetries by folding your own hexahexaflexagons and origami shapes. Try our challenges and puzzles.
Recommended for all ages with mathematical challenges at all levels.
Room 204B: Geometric Constructions
Build polyhedra and other shapes with mathematical construction tools, such as Zome. Discover the natural symmetries that govern 3-dimensional space.
Recommended for all ages.
Other Activities: Throughout the event, come participate in other fun activities! Make awesome bubbles with 3D shapes (polyhedra)! Learn about snails with touch tanks provided by Sea-to-See and discover the mathematical intricacies of the snail shell and why we use the snail as our logo. Hungry? Support FSU Student Math Societies - purchase your very own Math Fun Day t-shirt to support this event and future events! Lunch and snacks will also be available for purchase during the event.
Please see the schedule of events for exact workshop locations and start times.
Workshops and demonstrations are events that have specific start and end times. They consist of hands-on activities or demonstrations lead by a faculty member or graduate student. Once a workshop begins, it will be difficult to accommodate late arrivals. Workshops will generally last between 30-60 minutes. All workshops begin every hour or half hour.
Math With Toothpicks (30 minutes)
Presenter: Dr. Aleksandr Rezniko, Assistant Professor of Mathematics
You do not need to do tedious computations to do math! In this session we will discuss some math problems that require only toothpicks! We will arrange and rearrange them to get the pictures we want and have some fun!
Audience: All ages

How High Can You Count on Your Fingers? (30 minutes)
Presenter: Sigrun Ahlquist, FSU Computer Science Graduate Student
This workshop will focus on how numbers can be represented in different ways using different "bases". Attendees will learn how to use their fingers and hands to convert between base 10 (our normal number representational method); base 5; and base 2 (binary, which is what computers use to store information).
Audience: Be able to add multi-digit numbers; advanced 2nd grade and up including middle school and high school students. There will be "decode the secret message" activities geared for different levels.

The Game of Chances (30 minutes)
Presenter: Dr. Arash Fahim, Assistant Professor of Mathematics, FSU
In this session some very simple paradoxes in probability will be discussed and students will be shown some cool probabilistic tricks.
Audience: Appropriate for all levels.

Why Can't You Beat the Casino? (30 minutes)
Presenter: Dr. Lingjiong Zhu, Assistant Professor of Mathematics, FSU
Why can't you beat the casino? Why is the casino business so lucrative? Through the examples of Roulette, Sic bo, as well as some common gaming strategies, we will try to understand why the casino has an edge, and why you can never beat the casino.
Audience: 4th grade and above.

Secret Codes (1 hour)
Presenters: Dr. Giray Okten, Professor of Mathematics and Jamie Fox, FSU Mathematics Graduate Student
This is an interactive, hands on workshop where students will learn about secret codes using cipher shifts and encode and decode their own messages.
Audience: 3rd to 5th grade, and middle school.

Why Are Catenaries Important? (30 minutes)
Dr. Steven Blumsack, Emeritus Professor of Mathematics
Catenaries are common curves that occur naturally and in man-made structures. The presentation will illustrate examples of catenaries and describe how that are the result of fundamental laws in science.
Audience: 3rd Grade and above

Natural and Mathematical Fractals (30 minutes)
Dr. Steven Blumsack, Emeritus Professor of Mathematics
Fractals are geometrically figures that students often find interesting. This presentation will describe the properties of fractals and illustrate their importance in the concept of length and in naturally-occurring phenomena thereby providing a basis for the patterns in the Fractal Room.
Audience: 3rd Grade and above

What is Calculus? (45 minutes)
Presenter: Dr. Jon Ahlquist, Associate Professor of Meteorology
Calculus is used to describe how things change and how you can add up those changes. Its history dates back to Archimedes of "Eureka!" fame, with Isaac Newton, contemporaries, and followers making other significant contributions. We'll discuss what calculus is and who uses it. We can do this without needing advanced math, just as a music appreciation class helps you understand music without requiring that you be a musician.
Audience: Middle school and above

Software-Defined Radio (SDR) (45 minutes)
Presenter: Dr. Jon Ahlquist, Associate Professor of Meteorology & Bobby Roy, PhD Graduate Student in Computer Science
SDR is the future of radio communication! Learn how to become part of this fast-developing technology where most of a traditional radio is replaced by a computer and software. After a brief introduction, we'll spend most of our time demonstrating SDR with inexpensive SDDR receivers we own as well as showing you websites connected to software-defined radios that you can control. For example, using our SDR, we will identify the airplanes flying above us.
Audience: 3rd Grade and above

WeatherSTEM Data Mining (1 hour)
Ed Mansouri, President of WeatherSTEM and FSU Meteorology Alumnus
Weather data is collected from over 300 WeatherSTEM units including several around the FSU campus. They can be used to make better sense of the world around us. Learn how WeatherSTEM data can be "mined" through WeatherSTEM's FREE websites!
Audience: Middle school and above

The Twists and Turns of Polyominoes (30 minutes)
Dr. Oleksandr Vlasiuk, Post-doctoral Associate in Mathematics
Polyominoes are flat geometric figures obtained by joining several equal squares edge to edge. We will see how to use them to tile the plane in different ways, discover beautiful puzzles, and play Blokus (or Tetris!).
Audience: 5th grade and above, and all who like puzzles with blocks.

1:00-2:00 Public Lecture
Biomathematics - The Past Through Tomorrow
Dr. Nick Cogan, Brennan Professor of Mathematics
Printable Public Lecture Poster: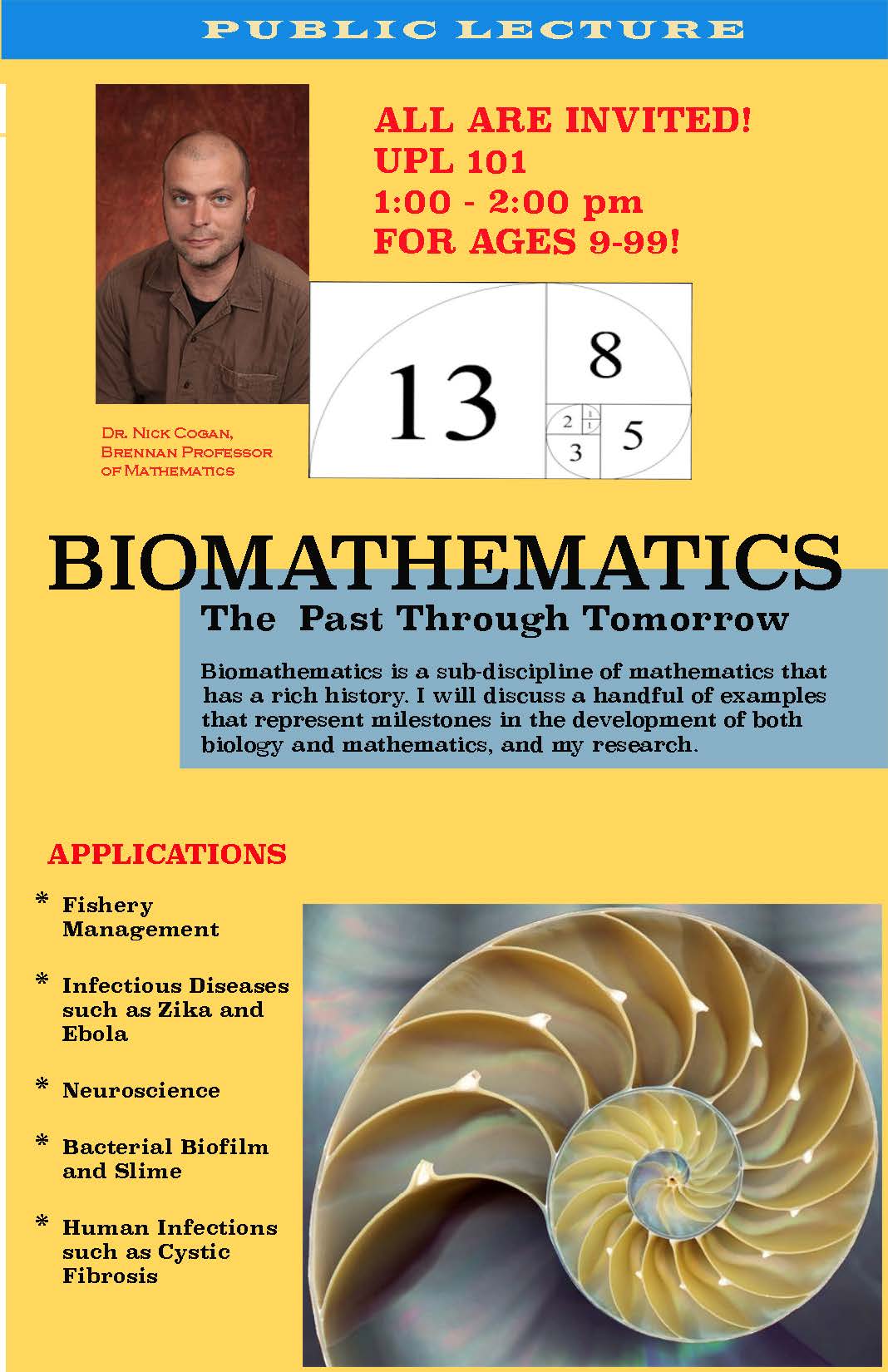 Parking Information, including construction zones.
Google Map with Parking and Construction Zones around Love Building
FSU Campus Map Highlighting the Love Building
Google Map with Love Building
Brochure of Schedule of Events
Printable Math Fun Day Brochure with a Schedule of Events

FSU Math Fun Day is made possible through the generous financial support of
The College of Arts and Sciences at Florida State University,
The College of Education at Florida State University,
The Department of Mathematics at Florida State University,
The Brennan Professorship of Mathematics,
Friends of FSU Math.
If you would like to support FSU Math Fun Day, and other outreach activities provided by the Department of Mathematics at FSU, please become a Friend of FSU Math. Your donations to FSU Mathematics help support alumni networking, community outreach, research activities, and guest speakers.


If you would like to support FSU Math Fun Day, and other outreach activities
Event Director: Professor Monica K. Hurdal, Department of Mathematics
Email: MathFunDay@math.fsu.edu
Phone: (850) 644-2202 (Department of Mathematics Main Office) or (850) 644-7183 (Direct)

Information on this site will be updated periodically.

Like us on facebook at https://www.facebook.com/FSUMathFunDay; follow our event on facebook; and follow us on instagram and twitter #FSUMathFunDay