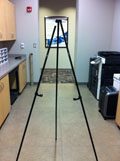 Photo of Easel
Students' research posters should be brought to the foyer of the Auditorium of the AME building before 5 PM on Friday.
Students are expected to attend the poster session to explain their work to the judges and other attendees from 6 PM to 7 PM on Friday.
The posters will remain on display throughout the sessions on Saturday until the awards are announced at 4 PM. Posters must be removed before the end of Session D at approximately 6:30 PM.
The posters will be displayed on easels. All of the easels are adjustable; between 63 and 70 inches in height, and can support 5 pounds. Unlike panels, the easels require that the posters have a stiff self-supporting backing material.
The UPS store on campus prints posters for a fee.
Students that have difficulty gaining access to a poster printer should contact the Workshop organizers to arrange an alternative.